This pasta dish has it's origins in a Sunset cookbook I picked up at Powell's probably 20 years ago. It appears to be out of print but there are used copies out there.
Fresh Ways With Pasta includes a recipe called Linguine with Prosciutto and Olives. I'm not sure what ever prompted us to try this dish because it just seemed like such a weird combination but it quickly became a favorite of ours.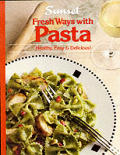 The recipe as in the book is included at the bottom of this post
Over the years we have modified this mostly by increasing the amount of toppings. We also use dried pasta. A bit more of each ingredient than the recipe originally called for makes for a better balance. We have also discovered that the leftovers reheat well in the microwave so making more than we can finish in one meal is not a problem at all.
Start with Pasta, Green Onions, Prosciutto, Pimento Stuffed Green Olives, and Cherry Tomatoes.
(as always – click on the images for a larger version)
A note on the prosciutto: Have the meat department slice it a bit thicker than they normally slice prosciutto. You're going to chop it up and give a quick sauté and if it's too thin it'll just disintegrate.
Chop up the prosciutto, onions and cherry tomatoes. Drain the olives.
Heat up some olive oil and sauté the prosciutto for just a little bit. Add the onions and keep stirring.
When the onions have softened up a bit toss in the olives.
This will take a few minutes to heat them up. I wait until The Hubster is draining the pasta to add the cherry tomatoes. They only take a little bit of warming up and then it's time to pour the toppings on the pasta.
Add Parmesan or my preference which is a blend of Parmesan, Romano and Asiago that my local market carries.
We usually have a Grenache or Pinot Noir Rose with this dinner.

Here's the original recipe which in my opinion doesn't have enough of any of the toppings. It's kind of weird but so yummy.
Linguine with Prosciutto and Olives, Courtesy: "Fresh Ways with Pasta"

The fragrance and sweet-salty flavor of prosciutto permeate this dish and mingles with the stuffed olives, linguine and bright cherry tomatoes.

Ingredients:
8 ounces dry linguine (or one package 9 ounces fresh linguine)
2 ounces thinly sliced prosciutto, cut into 1/4 inch wide strips
1/4 cup olive oil
1/2 cup thinly sliced green onion (including tops)
1 (3 ounce) jar pimento stuffed olives, drained
1 cup cherry tomatoes, halved
½ cup grated parmesan cheese

Directions:

In a 5 to 6-quart pan, cook linguine in 3 quarts boiling water until al dente (8 to 10 minutes for dry pasta, 1 to 2 minutes for fresh pasta), or cook according to package directions.
Drain well and transfer to a warm serving bowl.
While linguine is cooking, heat oil in a medium-sized frying pan over medium-high heat. Add prosciutto and cook, stirring often until lightly browned (about 3-4 minutes).
Add onions and cook, stirring, until they begin to soften (about 2 minutes).
Add olives and tomatoes and cook, shaking pan often, until olives are hot (about 2 more minutes).
Pour prosciutto mixture over linguine and mix lightly using two forks.
Transfer to a warm serving bowl.
Sprinkle cheese on top to taste.
Hope you're having a great weekend!
Beth Fish's Weekend Cooking is open to anyone who has any kind of food-related post to share: Book (novel, nonfiction) reviews, cookbook reviews, movie reviews, recipes, random thoughts, gadgets, fabulous quotations, photographs. If your post is even vaguely foodie, feel free to grab the button and link up anytime over the weekend. Please link to your specific post, not your blog's home page. For more information, see the welcome post.